How DPF 4 Wines started is a nice story. The current CEO & Founder Daniel Trouwen has been a wine collector since the moment he started a bachelor's degree International Hospitality Management in Leeuwarden, The Netherlands. SDEN certificates 1 till 3 were part of the curriculum and that is where the passion for wine started for Daniel Trouwen.
Daniel has never been a reader, although when it comes to wines, he played his part. His Favorite wine writer has to be Clive Cotes. As a result of gaining knowledge about wine during his education, Daniel did his final internship at Wijnkoperij De Gouden Ton, Amsterdam Centrum. During this internship, Daniel started the SDEN 4 level (Vinologen Opleiding) as well which provides the knowledge to add value to the existing wine industry.
Daniel is able to enjoy wine within every price region, although when he found something very rare and special, he could not be happier. By doing this for 3 years, Daniel found out that his wine collection was special and sought after. He was not aware of the fact that Henri Bonneau, Domaine Verset, J.L Chave and Thierry Allemand were such rare and sought after wines.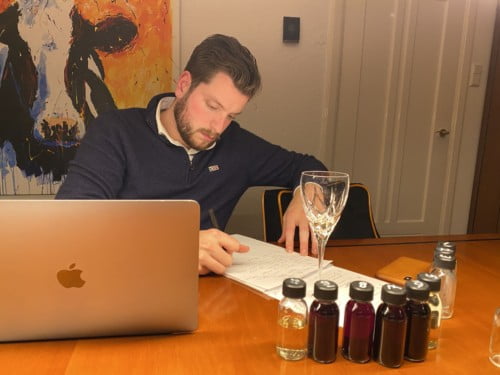 At that moment Daniel wanted to start his own business specialized in Fine & Rare wines called DPF 4 Wines. With the mission to make Fine & Rare wines approachable and relatively easy to purchase. The vision of DPF 4 Wines is to give the customer to opportunity to buy the most sought-after wines in the world with just a mouse click.
The services of DPF 4 Wines are tailored to the demand of the customer. You dream it, we do it. For example, winetasting for your friends and family, discovery tasting to define your taste profile, the helping hand in your wine cellar, the helping hand to sell your wines and providing you with a tailor-made wine & dine experience.